Ph.D. Students' Day
(JDC 2017)
Wednesday March 15th, 2017
9 am – 6 pm
Cerfacs, Conference room JCA / Seminars room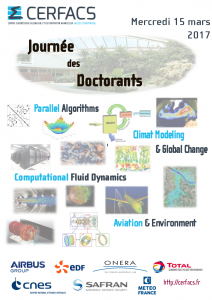 For its second edition, this day will be for more than thirty Ph.D. students the opportunity to present to all their research work via a presentation and a poster.
For the 30th anniversary of CERFACS, the posters will be displayed again and a prize will reward the poster the most didactic and the most aesthetic.
Participation in the event is free of charge. However, for logistical reasons, registration is mandatory by filling in the form below.