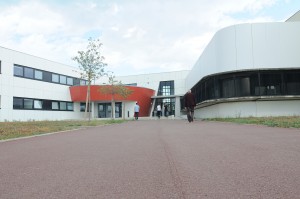 Cerfacs is located on the Météo-France site (Météopole) in Toulouse. It is 7 km from Toulouse city centre and 8 km from Toulouse Blagnac airport, and is easily accessible by bus and metro.
42 avenue Gaspard Coriolis
31057 Toulouse cedex 1
France
Present yourself at the guard post of Météo-France
Access to Cerfacs is via the Météo-France security post (Météopole). You will be issued with a badge on presentation of proof of identity (identity card, passport).
By bike
By public transportation
By car
From PARIS-BORDEAUX by highway

:

before the tollgate, take the direction FOIX-TARBES.

on the ring road take exit N°27 LA CEPIERE, METRO, then take exit 27 towards CUGNAUX and then THE PRADETTES; then follow the METEO-CERFACS signs
From MONTPELLIER or CARCASSONNE by highway

:

before the tollgate, take the direction FOIX-TARBES, cross LA GARONNE then only take the direction BORDEAUX

on the ring road take exit N°27 LA CEPIERE, CUGNAUX, LES PRADETTES; then follow the signs METEO-CERFACS