The meeting will be held at Cerfacs, 42 avenue Gaspard Coriolis, 31057 Toulouse Cedex 1, France.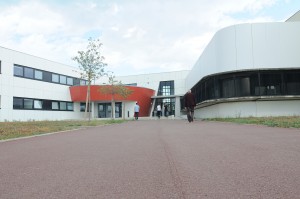 CERFACS is located on the campus of Météo-France, in the western part of Toulouse, at 7 km away from Toulouse downtown and at 8 km from Toulouse Blagnac Airport.
Easily reachable by bus and metro.
CERFACS
42, Avenue Gaspard Coriolis
31057 Toulouse Cedex 1
France
ACCESS to CERFACS
TAXI
By taxi : from the Airport, a taxi can drive you to Meteopole in about 15 minutes
PUBLIC TRANSPORT
Airport shuttle and underground: about 2 hours
 

From Blagnac Airport to the Centre of Toulouse

:  

SHUTTLE
Take the airport shuttle called 'Aerocar' in front of the airport, ARRIVAL DOOR – GATE C
http://www.toulouse.aeroport.fr/en/passengers/go/access-airport/airport-shuttle
Price : 8 €
You can buy your ticket :
– At the bus station
– From the driver in the bus
– At Tisséo Sales Outlets
Ticket is valid throughout the entire bus-underground network and the Airport Shuttle.
Frequency:  Every day except on the 1st of May : from 5:30 a.m. to 0.15 a.m., every 20 minutes
Stopping places :  Marengo—SNCF station  / or /  Jean-Jaurès station
 From the Centre of Toulouse to CERFACS

:

SUBWAY
Take the subway  (line A) from "Jean-Jaurès" or "Marengo—SNCF" station to the last stop "Basso Cambo".
With the same ticket to be punched again in the bus, take either bus number 18 (check that the direction at the front of the bus is "Cité Scolaire Rive Gauche"), then get off at stop "METEO-FRANCE".
It takes about 20 minutes from downtown to Météo by metro and bus.
A subway + bus ticket will cost around €1,60.
You can also get on bus number 21, which stops in front of the Motorola firm. The Météo France campus is behind you, at the roundabout.