Ph.D. Students' Day : Thursday March 21st, 2019
Thursday 15 March 2018
Ph.D. Students' Day CERFACS, Toulouse, France
Ph.D. Students' Day
(JDD 2019)
Thursday March 21st, 2019
9 am – 6 pm
CERFACS, Conference room JCA

The 2019 edition of the PhD Students' Day will take place on March 21, 2019, in the JCA conference room at Cerfacs. The participation of 1st and 2nd year PhD students is mandatory except in exceptional cases.
It will be a good opportunity for you to present your work to the members of the lab and invited external persons. Because we are many PhDs this year, oral presentations will be limited to 3 minutes (180 seconds in other words). Questions about you presentation will take place during posters sessions.
This year, the best oral presentation AND the best poster will be rewarded !!!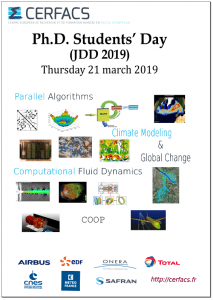 Warning ! All presentations will be in ENGLISH. (You can show your French skills on the poster if you wish)
Agenda:
Abstracts in PDF (title, abstract up to 118 words and image):

February 4, 2019

Posters in PDF and A0 format:

March 4, 2019

Slides:

March 11, 2019
Participation in the event is free of charge. However, for logistical reasons, registration is mandatory.
Organising Committee: